Fruits and vegetables in season now at a farmers market near you
It's December and although it's getting cold outside there are plenty of fruits and vegetables in season now. Let's discuss some of them and how to store them. Read all the way to the bottom of the article for a complete list of produce to be found in California during the month of December.
Buying in bulk – How to buy and store in season fruits and vegetables
While we encourage eating fresh it's not always possible year round. For some families it makes since to stock up when local produce is in season and store it for use later in the year when it costs more. Next we will discuss how to store a few of our favorite fruits and vegetables for use at a later time.
Tomatillos
Tomatillos are a staple in our family. They have a distinct tart and fruity taste and go great in salsa's, salsa verde and many traditional Mexican dishes. Best of all tomatillos can be kept in the freezer for up to 12 months for use year round. Just put them in a freezer bag and that's it, you'll have tomatillos to use for all your mexican dishes until they come back in season.
Green beans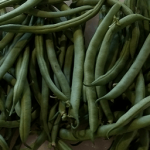 Green beans are great all year round. We like to stock up while they are in season and freeze them for use year round. There are several ways to freeze green beans but the easiest way is to flash freeze them. Simply spread a single layer of green beans on a baking sheet and freeze for 45 – 60 minutes. Remove from freezer and place them in a freezer bag, that's it. Then when your ready to use them boil them until they are thender and season to taste. Don't forget that Christmas dinner is just around the corner making it a great time to Stock up on green beans for green bean casserole.
Yams
Yams are a hit at our house around the holidays, stock up and be ready for your holiday dinners. IF you want to stock up on yams and freeze them for later use simpley boil them, slice or mash and freeze in zip lock freezer bag.
Kale and Spinach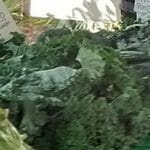 Stock up and freeze what you won't be able to use right away. Frozen spinach and kale is great in smoothies.
Lemons
Lemons can be squeezed, frozen in ice cube trays and stored in gallon sized zip locks for use year round. Drop a couple of lemon cubes in a pitcher of water, and sugar and enjoy your lemonade.
Onions
Onions – onions will keep for up to 6 months in the winter and can also be fried and used for green bean casserole.
Here is a list of fresh locally grown, in season fruits and vegetables that you can find in California in December
Here is a list of vegetables in season in December:
Artichokes
Basil
Green Beans
Beets
Brussels Sprout
Cabbage
Carrots
Cauliflower
Celery
Chard
Chili Pepper
Collards
Corn
Cucumber
Eggplant
Kale
Kohlrabi
Lettuce
Mushroom
Mustard
Okra
Onion
Green Peppers
Potatoes
Spinach
Summer Squash
Winter Squash
Tomatillos
Turnips
Yams
In season fruit:
Citrus
Lemons
Valencia Oranges
Grapes
Guava
Pomegranates
Pineapple
Kiwi
Tomatoes
---
Click here
to find the nearest fruit stand or farmers market near you.
---